2555 Equestrian Rd., Paso Robles, CA  93446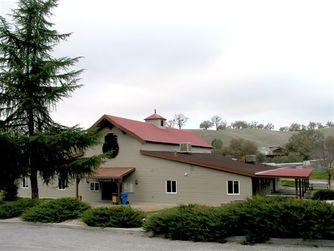 The Recreation (Rec) Barn is located on Equestrian Road, just off Heritage Road. Wrapped around three of this building's sides is the Equestrian Center. The Rec Barn received a series of major improvements between 2003-2006 including new windows and doors and exterior siding. The Rec Barn is scheduled for an interior remodel and modernization in late 2021.
The Rec Barn offers a covered patio, landscaping, shade trees, and a brick barbecue with the Equestrian arena in easy view. Ample parking is available for events. There is also a full-sized commercial style kitchen and stage area.
The Rec Barn hosts the HROA Board Meetings, along with various membership and community events.
The Rec Barn is available to rent for private gatherings, wedding receptions, etc. Arrangements for rental can be made through the HROA Member Services Office.