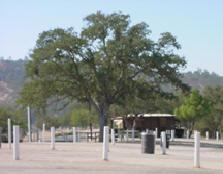 Campground Reservations
All Camping Reservations are made through the HROA Office.

Please remember that all reservations and payments are to be made by the property owner.
Please note: 
Fire Conditions:

When entering the Main Gate to Heritage Ranch, take time to notice the sign displaying the fire condition.  There are no fires allowed at any time during extreme fire conditions. During non-extreme fire conditions, a fire or barbeque is permitted only at your campsite, in a free-standing, self-contained portable unit fully enclosed with a lid available.  A grill is considered a lid for this requirement.  All ashes must be hauled away or disposed of in the "ASHES ONLY" receptacles provided. 
 
Parking:

There is no parking at the Marina beyond the Fish Cleaning Station for any vehicle that does not have a current HROA decal or placard.  Please check in at the Main Gatehouse when entering Heritage Ranch and have your vehicle and vessel properly registered. All vehicles and vessels must be parked within the reserved camping space.  The small lots at the end of the campground are not campground parking.  They are enforced marina parking, and any overnight parking in these sites will result in a citation.  If your vessel does not fit into your space, it needs to be parked in the overflow lot on the other side of the fish cleaning station.  Campers only please request a permit at the main gate at check in if you will need to park in overflow overnight.
Fishing:

There is a Fish Cleaning Station available on-site to clean your fish.
RV Camping
The RV camping comes with full hook-up and a lovely view of the lake. This area is located on the road to the Marina, just after turning off of Heritage Road.
Tent Camping
The tent camping area is located just a bit closer to the Marina.  Each campsite is clearly marked and has a picnic table. 
Tent sites 15-19 are available for reservations.
Campsites 20 and 21 have been permanently converted to day use picnic sites only and are no longer available for camping.  There is no adjacent parking at these tables. Parking for these two locations is in the  marina marked parking lot.  
Day Camping
Day camping is on a first-come-first-serve basis.  All canopies must be removed daily.